Jericho - Ann McMan
Librarian Syd Murphy flees the carnage of a failed marriage by accepting an eighteen-month position in Jericho–a small town in the Appalachian Mountains of Virginia. Her plans to hide out and heal her wounds go by the wayside as she gets drawn into the daily lives of the quirky locals and becomes fast friends with Maddie Stevenson, the enigmatic physician who has returned to the backcountry community to take over her late father's medical practice.
The Price of Salt / Carol - Patricia Highsmith
Therese is just an ordinary sales assistant working in a New York department store when a beautiful, alluring woman in her thirties walks up to her counter. Standing there, Therese is wholly unprepared for the first shock of love. Therese is an awkward nineteen-year-old with a job she hates and a boyfriend she doesn't love; Carol is a sophisticated, bored suburban housewife in the throes of a divorce and a custody battle for her only daughter. As Therese becomes irresistibly drawn into Carol's world, she soon realises how much they both stand to lose.

Miles Apart - A. L Brooks
Which mistakes are irredeemable? Would you fight to save a five-year relationship after your lover's had a drunken one-night stand? Alex is torn by this question. The past twelve months have seen her and her girlfriend Terri slowly drift apart, and the revelation of Terri's betrayal shows her just how far apart they are. The longer they fight, the less she wants to try. On a business trip to Canada, Alex meets Justine and, over the course of one evening, a connection is formed that shatters everything Alex thought she knew about herself. Returning to London, she's faced with choices that will irrevocably change her life.


Tipping the Velvet - Sarah Waters
Nan King, an oyster girl, is captivated by the music hall phenomenon Kitty Butler, a male impersonator extraordinaire treading the boards in Canterbury. Through a friend at the box office, Nan manages to visit all her shows and finally meet her heroine. Soon after, she becomes Kitty's dresser and the two head for the bright lights of Leicester Square where they begin a glittering career as music-hall stars in an all-singing and dancing double act. At the same time, behind closed doors, they admit their attraction to each other and their affair begins.
Popcorn Love - KL Hughes
A prominent figure amongst New York City's fashion elite, Elena Vega is a successful business woman and single mother to an adorable three-year-old son, Lucas. Her love life, however, is lacking, as those closest to her keep pointing out. At the persistent urging of her closest friend, Elena reluctantly agrees to a string of blind dates if she can find a suitable babysitter for Lucas. Enter Allison Sawyer, a free-spirited senior at NYU. Elena is intrigued by Allison's ability to push her out of her element and the young woman's instant and easy connection to Lucas quickly earns Allison the job. After each blind date, Elena returns home to complain to Allison about her suitors and as they bond Elena begins to realise that the person possessing all the qualities she most desires just might have been right in front of her the entire time.


Twice in a Lifetime - PJ Trebelhorn
Police detective Callie Burke returned to western New York after a bad breakup and immediately immersed herself in work to avoid any personal connections. But as her feelings for her sister's boss and late friend's widow begin to move beyond friendship, she isn't quite sure how to handle it. Bar owner Taylor Fletcher lost her firefighter wife three years ago and dating is still the last thing on her mind. She gave her heart away once and isn't willing to risk that kind of pain again. But now Callie, a woman she isn't sure she even likes, is getting under skin. An injury and a potential threat on Taylor's life causes the two women to spend more time together and both begin to feel things they never expected leaving Taylor wondering if it''s possible to feel that once-in-a-lifetime kind of love twice?
Perfect Rhythm - Jae
Pop star Leontyne Blake might sing about love but she stopped believing in it a long time ago. What women want is her image, not the real her. When her father has a stroke, she flees from the spotlight and returns to her tiny hometown where she meets small-town nurse Holly Drummond, who isn't impressed by Leo's fame at all but that isn't the only thing that sets her apart; Holly is also asexual. For her dating is a minefield of expectations that she has decided to avoid. Can the tentative friendship between the two women develop into something more despite their diverse expectations?
Too Late I Love You - Kiki Archer
Connie Parker isn't convinced by this falling in love lark. Falling hurts, you end up with bruises and scars. She has the perfect answer: she'll write about love instead. But what happens when the novel-in-progress describes more about Connie's own dull existence than she wants to admit? And when will she realise that the hero is beginning to resemble her new best friend Maria - a woman who seems to turn every simple with their 3-year-olds into a fun filled adventure for them all? In trying to make sense of the puzzle of her life, Connie learns there is no perfect person. Just that person who'll fit you perfectly.
Tailor-Made - Yolanda Wallace
Before Grace Henderson began working as a tailor in her father's bespoke suit shop in Williamsburg she established a hard and fast rule about not dating clients. The edict is an easy one for her to follow, considering the overwhelming majority of the shops clients are men. But when Dakota Lane contacts her to commission a suit to wear to her sisters wedding, Grace finds herself tempted to throw all the rules out the window. Dakota Lane works as a bicycle messenger by day and moonlights as a male model. Her high profile career, gender-non-conforming looks, and hard-partying ways garner her plenty of romantic attention she would rather play the field than settle down. When she meets tailor Grace Henderson, however, she suddenly finds herself in the market for much more than a suit.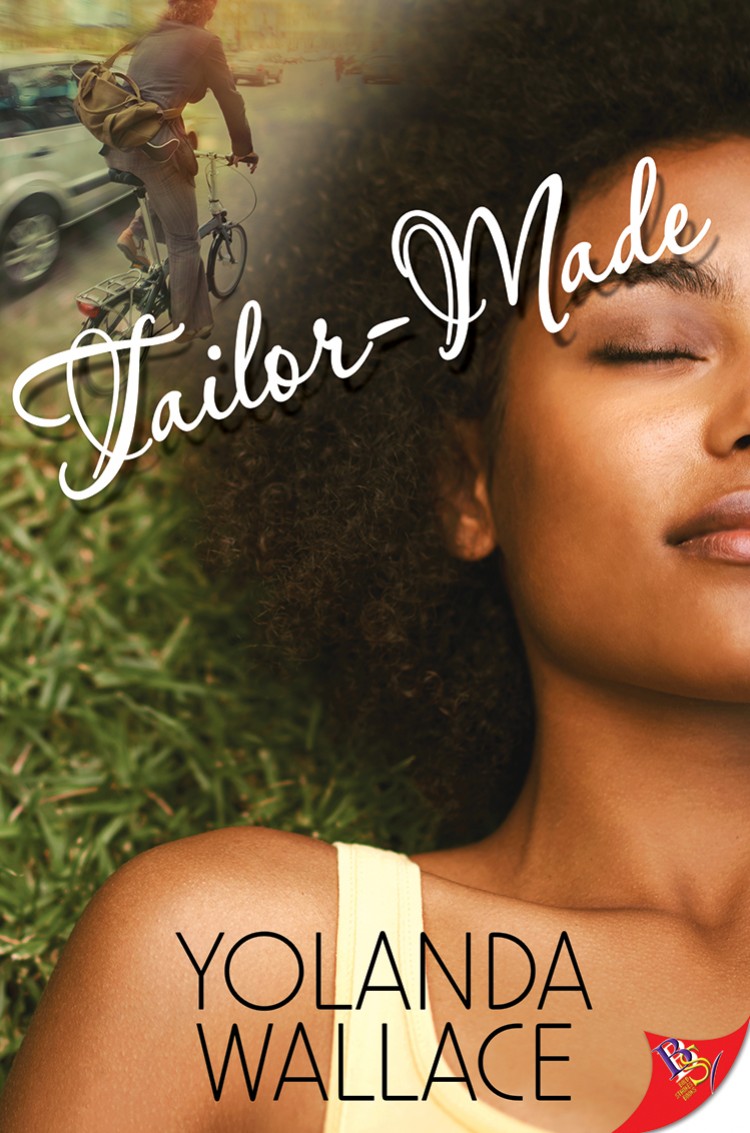 The Caphenon - Fletcher DeLancy
On a summer night like any other, an emergency call sounds in the quarters of Andira Tal, Lancer of Alsea. The news is shocking: not only is there other intelligent life in the universe, but it's landing on the planet right now. Tal leads the first responding team and ends up rescuing aliens who have a frightening story to tell. They protected Alsea from a terrible fate—but the reprieve is only temporary. Captain Ekayta Serrado of the Fleet ship Caphenon serves the Protectorate, a confederation of worlds with a common political philosophy. She has just sacrificed her ship to save Alsea, yet political maneuvering may mean she did it all for nothing. Alsea is now a prize to be bought and sold by galactic forces far more powerful than a tiny backwater planet. But Lancer Tal is not one to accept a fate imposed by aliens, and she'll do whatever it takes save her world.
That Certain Something - Clare Ashton
Love or money? Follow the head or heart? Pia and Cate seem to be flip sides of a coin. But when they meet they definitely have that certain something, and those questions aren't so simple after a night like theirs. Pia Benitez-Smith has her head in the clouds of ideals and romance, she's a photojournalist out to prove herself with her compassionate eye even though, most days, trouble seems to follow her. On one such day she literally falls into the arms of the beautiful Cate. Elegant, intriguing and classy, Cate is Pia's polar opposite but with the assistance of a beautiful summer night Pia begins to enchant her new friend.
Long Distance Coffee - Emma Sterner-Radley
New York personal trainer Erin Black lives a solitary life plagued by insomnia. Isabella Martinez, a former CEO turned writer, is stuck in a platonic relationship in Florida with her baby boy. One sleepless night on social media, they strike up a conversation that changes their lives and makes them question everything. Over midnight cups of coffee, they try to resist the powerful chemistry that builds between them. They soon discover their connection could be the key to unlocking their personal issues. Questions remain though. Are they more than friends? Could they be right for each other? And if they are, how will they handle a relationship a thousand miles apart?
The Warrior's Path - Catherine M Wilson
Book 1 of 3: Tamras arrives in Merin's house to begin her apprenticeship as a warrior, but her small stature causes many, including Tamras herself, to doubt that she will ever become a competent swordswoman. To make matters worse, the Lady Merin assigns her the position of companion, little more than a personal servant, to a woman who came to Merin's house, seemingly out of nowhere, the previous winter, and this stranger wants nothing to do with Tamras.
Waiting in the Wings - Melissa Bradley
If you don't get lost, there's a chance you may never be found. Jenna McGovern has spent her whole life training for the stage. At graduation, she's stunned when a chance audition lands her a prime supporting role in the hottest Broadway touring production in the country. In more exciting news, Jenna discovers acclaimed television star Adrienne Kenyon is headlining the production. Jenna settles easily in to life on tour; she's waited for this opportunity her entire life and will let nothing stand in her way. The one thing she didn't prepare for, however, was Adrienne. Her new costar is talented, beautiful, generous, and the utmost professional. As the two women grow closer onstage and off, they must learn how to fit each other into a demanding lifestyle full of unexpected twists and difficult decisions.
Grace Falls - HP Munro
Dr Maddie Marinelli is looking for a fresh start, she's leaving behind the ghost of a failed relationship and looking forward to starting a new job and life in San Francisco...what she didn't count on was car trouble and the colorful residents of Grace Falls. Alex Milne has spent most her adult life putting other people's needs first. She is busy raising her daughter in her hometown while running her business and the last thing she expects is to be attracted to Grace Falls' newest, albeit reluctant, resident. Sometimes you don't know what it is you're looking for, until it comes along and finds you.
Flight SQAO16 - AE Radley
Spurred on by overwhelming and ever-increasing debts, Emily White takes a job working in the first-class cabin on the prestigious commuter route from her home of New York to London with Crown Airlines. A gruelling transatlantic schedule means she is in the air nearly as much as she is on the ground and desperately misses her five-year-old son. On board she meets Olivia Lewis, who is a literal high-flying business executive with a weekly commute, a meticulous schedule, and terrible social skills. When a personal emergency brings them together, will Emily be able to swallow her pride and accept help from Olivia? And will Olivia be able to prevent herself from saying the wrong thing?
Touchwood - Karin Kallmaker
Twenty-nine-year-old Rayann Germaine, betrayed by her lover, flees in grief and rage. She meets book store owner Louisa Thatcher, a woman many years her senior, who offers shelter and work... and soon, passion, and a loving place in her life. But Rayann encounters challenges to this new love - from friends who question its wisdom, from her mother who disapproves of this liaison with a woman her own contemporary, from Louisa's son who learns for the first time his mother's true sexuality. And there are profound differences between Rayann and Louisa themselves, two women who come from dramatically different places in the spectrum of age and life experience. Their only common ground seems to be the searing attraction that they both try to deny...
The Gilda Stories - Jewelle L. Gomez
Escaping from slavery in the 1850s Gilda's longing for kinship and community grows over two hundred years. Her induction into a family of benevolent vampires takes her on an adventurous and dangerous journey full of loud laughter and subtle terror.
Perfect Pairing - Rachel Spangler
Hal Orion is an accomplished chef and food truck owner. Her life is exactly how she wants it: no strings, no commitments, and no roots—just great grilled cheese and a whole lot of freedom on the side. Quinn Banning is an investment banker, and the dividend she seeks is a resurgence of the once great city of Buffalo. Putting together her next business venture, she recognizes Hal's talent and charm as necessary assets for success—her good looks don't hurt, either. But Hal's transient ways are in direct opposition to the stability Quinn craves. Relying on their shared love of Buffalo, Quinn makes her an offer she can't refuse—a restaurant under her own name, complete creative control, and secure financial backing. It's every chef's dream. But Hal utters the one word Quinn can't stand to hear, "no." Will their physical attraction grow cold as they argue over their ideals, or will they find that the most distinctive ingredients often make for the perfect pairing?
Oranges Are Not The Only Fruit - Jeanette Winterson
This is the story of Jeanette, adopted and brought up by her mother as one of God's elect. Zealous and passionate, she seems seems destined for life as a missionary, but then she falls for one of her converts. At sixteen, Jeanette decides to leave the church, her home and her family, for the young woman she loves.