I Was Born For This - Alice Oseman
For Angel Rahimi, life is only about one thing: The Ark - a pop-rock trio of teenage boys who are currently taking the world by storm. Being part of The Ark's fandom has given her everything - friendships, dreams, her place in the world. Jimmy Kaga-Ricci owes everything to The Ark too. He's their frontman - and playing in a band is all he's ever dreamed of doing. But dreams don't always turn out as planned and when Angel and Jimmy are unexpectedly thrust together they discover just how strange and surprising facing up to reality can be.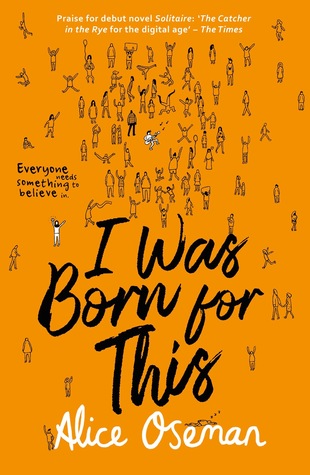 A Boy Worth Knowing - Jennifer Cosgrove
Ghosts can't seem to keep their opinions to themselves. Seventeen-year-old Nate Shaw should know; he's been talking to them since he was twelve. But they aren't the only ones making his high school years a living hell. All Nate wants is to keep his secret and keep his head down until he can graduate. That is, until the new boy James Powell, takes a seat next to him in homeroom. James not only notices him, he manages to work his way into Nate's life. But James has issues of his own. Between dead grandparents and living aunts, Nate has to navigate the fact that he's falling in love with his only friend, all while he's getting advice from the most unusual places. Ghosts, bullies, first love: it's a lot to deal with when you're just trying to survive senior year.
Pride Must Be A Place - Kevin Craig
Ezra Caine is gay. He's sort of out at school but not at home, where he fears the wrath of his father's bigotry. When Ezra's flamboyantly out friend Alex Mills takes one too many beatings from homophobic bully Will, Ezra finally snaps. Fed up with the situation at school he decides to do something about it. With the help of his BFF Nettie, and some unlikely allies, Ezra rallies to create their small-town school's first gay-straight alliance. But the changes don't come without hiccups; as Ezra and his friends attempt to sway their school into an alliance of tolerance and acceptance, Ezra experiences a few surprises of his own on the home-front. He also learns the hard way that friendships out of convenience aren't always a good idea, just as some enemies might not be as bad as he originally imagined them to be.
Simon vs the Homo Sapiens Agenda - Becky Albertalli
Simon Spier is sixteen and not-so-openly gay when an email to the distractingly lovely 'Blue' falls in the wrong hands and suddenly everything gets 100 times more complicated. Faced with the option of being outed or playing wingman; the clock is ticking for Simon to step out of his comfort zone before he is shoved out and with friends dating lives and his own potential love interest all on the line his junior year really isn't quite turning out how he planned.
Proxy - Alex London
Knox was born into one of the City's wealthiest families. A Patron, he has everything a boy could possibly want—the latest tech, the coolest clothes, and a Proxy to take all his punishments. When Knox breaks a vase, Syd is beaten. And when Knox crashes a car, killing one of his friends, Syd is branded and sentenced to death. Syd is a Proxy. His life is not his own. Then again, neither is Knox's. Knox and Syd have more in common than either would guess. So when Knox and Syd realize that the only way to beat the system is to save each other, they flee. Yet Knox's father is no ordinary Patron, and Syd is no ordinary Proxy. The ensuing cross-country chase will uncover a secret society of rebels, test both boys' resolve, and shine a blinding light onto a world of those who owe and those who pay.
The Dangerous Art of Blending In - Angelo Surmelis
Evan's weighed down by two secrets he can't share with anyone. One is that his strict Orthodox Greek mother physically abuses him - something at least his father, who's too conflict-averse to step in, knows. The other is that he's gay and in love with his best friend, Henry, and that's something no one can find out. But when Henry reciprocates his attraction, Evan see's what his life could be if they were out in the open. Not to mention that loving and being loved by Henry helps him see he's worth so much more than his mother's sharp criticism. But can Evan have this life he dreams of without losing the only family he's got?
Hero - Perry Moore
The last thing in the world Thom Creed wants is to add to his father's pain, so he keeps secrets. Like that he has special powers. And that he's been asked to join the League - the very organization of superheroes that spurned his dad. But the most painful secret of all is one Thom can barely face himself: he's gay. But becoming a member of the League opens up a new world to Thom. There, he connects with a misfit group of aspiring heroes, including Scarlett, who can control fire but not her anger; Typhoid Larry, who can make anyone sick with his touch; and Ruth, a wise old broad who can see the future. Like Thom, these heroes have things to hide; but they will have to learn to trust one another when they uncover a deadly conspiracy within the League. To survive, Thom will face challenges he never imagined. To find happiness, he'll have to come to terms with his father's past and discover the kind of hero he really wants to be.
History is all you left Me - Adam Silvera
When Griffin's first love and ex-boyfriend Theo dies in a drowning accident his universe implodes. Even though Theo had moved to California and started dating Jackson, Griffin had never doubted that he would return to him when the time was right. But now the future he'd been imagining for himself has gone way off course. To make matters worse the only person who truly understands his heartache is Jackson. As Griffin spirals he begins to lose himself in his obsessive compulsions and the secrets he's trying to keep start tearing apart. If Griffin is ever to rebuild his future, he must first confront his history; every last heartbreaking piece in the puzzle of his life.
The Song of Achilles - Madeline Miller
Greece in the age of heroes. Patroclus has been exiled to the court of King Peleus in disgrace; despite their differences a friendship soon blossoms between him and Achilles, son of Peleus, a bond that develops into something much deeper as the years pass and they grow into young men. But when Helen of Sparta is kidnapped, Achilles is dispatched to distant Troy to fulfil his destiny. Torn between love and fear for his friend, Patroclus follows, unaware that the following years will test everything they hold dear, including each other.
King Geordi the Great - Gene Gant
Geordi knows his parents mean well, but there's nothing okay about being outed by them before he's ready. What's more it led his best friend Toff to confess that he's got feelings for him. Geordi doesn't share those feelings, but he knows better than anyone what a tough home life Toff has, so how can he let him hurt anymore? Playing boyfriend really takes it's toll when their relationship moves further than Geordi's prepared for, but he doesn't know how to extricate himself from the lie without hurting Toff when his best friend needs him more than ever.
Loving Lakyn - Charlotte Reagan
Lakyn James is sixteen years old and hating every second of it. He was supposed to be done, he'd tapped out. End of story, unsubscribe here. Re-entering normal life after trying to take his own is weird. Especially when the world keeps going like it never happened. He still has to eat breakfast, go to school, and somehow convince a cute boy that he's too damaged to date. Scott White comes with his own problems, namely a habit of drinking too much and being indecisive about rather he wants in the closet, or out of it. Lakyn can't stand him; he also can't help smiling when Scott's around. Unfortunately - or fortunately - for Lakyn, life has decided to give him a second chance. He's not happy about it, but maybe, with a lot of hard work and a good therapist, he can learn to be. And maybe he can hold Scott's hand at the same time. No promises though.
Rainbow Boys - Alex Sanchez
Jason Carrillo is a jock with a steady girlfriend, but he can't stop dreaming about sex...with other guys. Kyle Meeks doesn't look gay, but he is. And he hopes he never has to tell anyone -- especially his parents. Nelson Glassman is "out" to the entire world, but he can't tell the boy he loves that he wants to be more than just friends. Three teenage boys, coming of age and out of the closet. In a revealing debut novel that percolates with passion and wit, Alex Sanchez follows these very different high-school seniors as their struggles with sexuality and intolerance draw them into a triangle of love, betrayal, and ultimately, friendship.
Two Boys Kissing - David Levithan
Harry and Craig, two 17-year-olds who are about to take part in a 32-hour marathon of kissing to set a new Guinness World Record—all of which is narrated by a Greek Chorus of the generation of gay men lost to AIDS. While the two increasingly dehydrated and sleep-deprived boys are locking lips, they become a focal point in the lives of other teen boys dealing with languishing long-term relationships, coming out, navigating gender identity, and falling deeper into the digital rabbit hole of gay hookup sites—all while the kissing former couple tries to figure out their own feelings for each other.
True Letters from a Fictional Life - Kenneth Logan
If you asked anyone in his small Vermont town, they'd tell you the facts: James Liddell, star athlete, decent student and sort-of boyfriend to cute, peppy Theresa, is a happy, funny, carefree guy. But whenever James sits down at his desk to write, he tells a different story. As he fills his drawers with letters to the people in his world—letters he never intends to send—he spills the truth: he's trying hard, but he just isn't into Theresa. It's a boy who lingers in his thoughts. He feels trapped by his parents, his teammates, and the lies they've helped him tell, and he has no idea how to escape. Is he destined to live a life of fiction?
We Are The Ants - Shaun David Hutchinson
Henry Denton has spent years being periodically abducted by aliens. Then the aliens give him an ultimatum: The world will end in 144 days, and all Henry has to do to stop it is push a big red button. Only he isn't sure he wants to. After all, life hasn't been great for Henry. His mom is a struggling waitress. His grandmother is slowly losing herself to Alzheimer's. And Henry is still dealing with the grief of his boyfriend's suicide last year. Wiping the slate clean sounds like a pretty good choice to him. But Henry is a scientist first, and facing the question thoroughly and logically, he begins to look for pros and cons. And, weighing the pain and the joy that surrounds him, Henry is left with the ultimate choice: push the button and save the planet and everyone on it…or let the world—and his pain—be destroyed forever.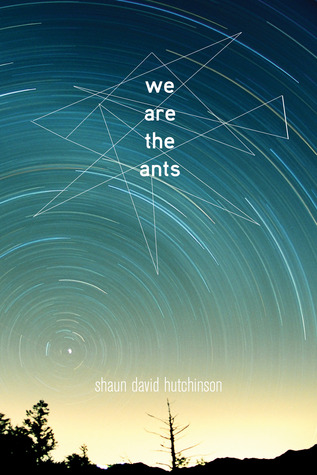 The Great American Whatever - Tim Federle
Quinn Roberts is a sixteen-year-old smart aleck and Hollywood hopeful whose only worry used to be writing convincing dialogue for the movies he made with his sister Annabeth. Of course, that was all before—before Quinn stopped going to school, before his mom started sleeping on the sofa…and before Annabeth was killed in a car accident. Enter Geoff, Quinn's best friend who insists it's time that Quinn came out—at least from hibernation. One haircut later, Geoff drags Quinn to his first college party, where instead of nursing his pain, he meets a guy—a hot one—and falls hard. What follows is an upside-down week in which Quinn begins imagining his future as a screenplay that might actually have a happily-ever-after ending—if, that is, he can finally step back into the starring role of his own life story.
The Love Interest - Cale Dietrich
There is a secret organization that cultivates teenage spies. The agents are called Love Interests because getting close to people destined for great power means getting valuable secrets. Caden is a Nice: the boy next door, sculpted to physical perfection. Dylan is a Bad: the brooding, dark-souled guy who is dangerously handsome. The girl they are competing for is important to the organization, and each boy will pursue her. Will she choose the Nice or the Bad? Both Caden and Dylan are living in the outside world for the first time. They are well-trained and at the top of their games. They have to be—whoever the girl doesn't choose will die. What the boys don't expect are feelings that are outside of their training. Feelings that could kill them both.
Been Here All Along - Sandy Hall
Gideon
always
has a plan. His plans include running for class president, becoming head of the yearbook committee and having his choice of colleges. They do
not
include falling head over heels for his best friend and next-door neighbour Kyle. It's pointless, as Kyle is already dating the gorgeous and popular head cheerleader, Ruby. And Gideon doesn't know what to do... Kyle
finally
feels like he has a handle on life. He has a wonderful girlfriend, a best friend willing to debate the finer points of Lord of the Rings, and social acceptance as captain of the basketball team. Then both Ruby and Gideon start acting really weird, just as his spot on the team is threatened, and Kyle can't quite figure out what he did wrong.
The Ghost of Buxton Manner - Jonathan L. Ferrara
For nearly a century, the ghost of 17 year-old Rupert Buxton has been trapped in his childhood home. He spends his days reading, roaming, and trying desperately to recall his former life. Hope is restored when a boy his own age moves into the manor—a boy he quickly becomes fascinated by. This peculiar, modern boy is the first person that Rupert has been able to reveal himself to, and just might be the key to help him discover his mysterious past.