Radio Silence - Alice Oseman
What if everything you set yourself up to be is wrong? Frances has always been a study machine with one goal: elite university. Nothing will stand in her way; not friends, not a guilty secret - not even the person she is on the inside. But when Frances meets Aled, the shy genius behind her favourite podcast, she discovers a new freedom and the Real Frances begins to come out, for the first time she is unafraid to be herself. When the blossoming trust between them is broken and her dreams come crashing down Frances finds herself suffocating on the guilt of her past; torn between who she was and who she wants to be she is going to need every bit of courage she has in order to face up to her fears.


Charlie likes to stand out. She's a vlogger and actress promoting her first film at SupaCon and this is her first chance to show the fans that she really is over her public breakup with co-star Reese. When internet-famous, cool-girl actress Alyssa Huntington makes an appearance at the con too it seems that maybe Charlie's one-sided crush might not be so one sided after all. But with fans looming and the memory of her last public relationship still fresh in her mind Charlie has decisions to make and not that much time to make them in.
Star Crossed - Barbara Dee
Thirteen year old Mattie is thrilled when she learns that the eight grade play will be Romeo and Juliet. In particular she's excited to share the stage with Gemma, who has been cast as Juliet. Gemma is brilliant in every way and Mattie slowly begins to see her as more than just a friend; taking over from her previous on-off crush on Elijah. Is it possible to have a crush on both boys and girls? If that wasn't enough to deal with, due to a last minute emergency Mattie finds herself thrust into the spotlight as Romeo just as her secret crush on Gemma becomes not-so-secret amongst her friends. With family, friends and education all threatening to collide in a big way Mattie must learn to be the lead player in her own life.
Leah on the Offbeat - Becky Albertalli
When it comes to drumming, Leah Burke is usually right on the beat - but real life is a little harder to manage. She loves to draw but is too self conscious to show it and she hasn't mustered up the courage to tell her friends she's bisexual, not even openly gay BFF Simon. So Leah doesn't really know what to do when her rock-solid friendship group starts to fracture. With prom and college on the horizon, tensions are running high, and it's hard for Leah when the people she loves are fighting - especially when she realises she might love one of them more than she ever intended.
Look Both Ways - Alison Cherry
A summer away from the city is the beginning of everything for Brooklyn Shepard. Her acting apprenticeship at the Allerdale Playhouse is a chance to prove that she can carve out a niche all her own, surrounded by people who don't anything about her, or her family of superstar performers. Brooklyn immediately hits it off with her roommate, Zoe, and soon their friendship turns into something more. Brooklyn wants to see herself as someone who's open to everything and everyone, but as her feelings for Zoe intensify so do her doubts. As she questions her sexuality, her role as an artist and her place in her family, Brooklyn discovers that neither talent nor love are as straightforward as she thinks.
In Other Lands - Sarah Rees Brennan
The Borderlands aren't like anywhere else. Don't try to smuggle a phone or any other piece of technology over the wall that marks the Border—unless you enjoy a fireworks display in your backpack. (Ballpoint pens are okay.) There are elves, harpies, and—best of all as far as Elliot is concerned—mermaids. Elliot? Who's Elliot? Elliot is thirteen years old. He's smart and just a tiny bit obnoxious. Sometimes more than a tiny bit. When his class goes on a field trip and he can see a wall that no one else can see, he is given the chance to go to school in the Borderlands. It turns out that on the other side of the wall, classes involve a lot more weaponry and fitness training and fewer mermaids than he expected. On the other hand, there's Serene-Heart-in-the-Chaos-of-Battle, an elven warrior who is more beautiful than anyone Elliot has ever seen, and then there's her human friend Luke: sunny, blond, and annoyingly likeable. There are lots of interesting books. There's even the chance Elliot might be able to change the world.
Little and Lion - Brandy Colbert
When Suzette comes home to Los Angeles from her boarding school in New England, she isn't sure if she'll ever want to go back. L.A. is where her friends and family are (along with her crush, Emil). And her stepbrother, Lionel, who has been diagnosed with bipolar disorder, needs her emotional support. But as she settles into her old life, Suzette finds herself falling for someone new...the same girl her brother is in love with. When Lionel's disorder spirals out of control, Suzette is forced to confront her past mistakes and find a way to help her brother before he hurts himself--or worse.

Like Water - Rebecca Podos
In Savannah Espinoza's small New Mexico hometown, kids either flee after graduation or they're trapped there forever. Vanni never planned to get stuck—but that was before her father was diagnosed with Huntington's disease, leaving her and her mother to care for him. Now, she doesn't have much of a plan at all: living at home, working as a performing mermaid at a second-rate water park, distracting herself with one boy after another. That changes the day she meets Leigh. Disillusioned with small-town life and looking for something greater, Leigh is not a "nice girl." She is unlike anyone Vanni has met, and a friend when Vanni desperately needs one. Soon enough, Leigh is much more than a friend. But caring about another person stirs up the moat Vanni has carefully constructed around herself, and threatens to bring to the surface the questions she's held under for so long.
They Both Die At The End - Adam Silvera
On September 5, a little after midnight, Death-Cast calls Mateo Torrez and Rufus Emeterio to give them some bad news: They're going to die today. Mateo and Rufus are total strangers, but, for different reasons, they're both looking to make a new friend on their End Day. The good news: There's an app for that. It's called the Last Friend, and through it, Rufus and Mateo are about to meet up for one last great adventure—to live a lifetime in a single day.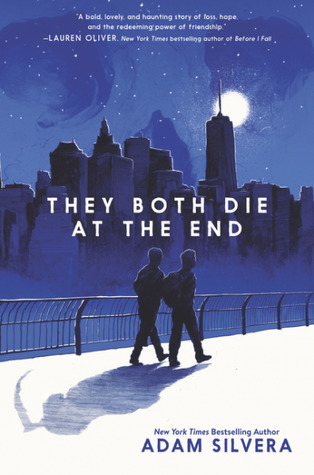 Knit One, Girl Two - Shira Glassman
Small-batch independent yarn dyer Clara Ziegler is eager to brainstorm new color combinations--if only she could come up with ideas she likes as much as last time! When she sees Danielle Solomon's paintings of Florida wildlife by chance at a neighborhood gallery, she finds her source of inspiration. Outspoken, passionate, and complicated, Danielle herself soon proves even more captivating than her artwork...
How To Make A Wish - Ashley Herring Blake
All seventeen year-old Grace Glasser wants is her own life. A normal life in which she sleeps in the same bed for longer than three months and doesn't have to scrounge for spare change to make sure the electric bill is paid. Emotionally trapped by her unreliable mother, Maggie, and the tiny cape on which she lives, she focuses on her best friend, her upcoming audition for a top music school in New York, and surviving Maggie's latest boyfriend—who happens to be Grace's own ex-boyfriend's father. Her attempts to lay low until she graduates are disrupted when she meets Eva, a girl with her own share of ghosts she's trying to outrun. Grief-stricken and lonely, Eva pulls Grace into midnight adventures and feelings Grace never planned on. When Eva tells Grace she likes girls, both of their worlds open up. But, united by loss, Eva also shares a connection with Maggie. As Grace's mother spirals downward, both girls must figure out how to love and how to move on.
Criminal Intentions - Cole McCade
When a string of young queer men turn up dead in grisly murders, all signs point to the ex-boyfriend—but what should be an open-and-shut case is fraught with tension when BPD homicide detective Malcolm Khalaji joins up with a partner he never wanted. Rigid, ice-cold, and a stickler for the rules, Seong-Jae Yoon is a watchful presence whose obstinacy and unpredictability constantly remind Malcolm why he prefers to work alone. Seong-Jae may be stunningly attractive, a man who moves like a graceful, lethal bird of prey...but he's as impossible to decipher as this case. And if Malcolm doesn't find the key to unravel both in time, another vulnerable young victim may end up dead.
Echo After Echo - Amy Rose Capetta
Debuting on the New York stage, Zara is unprepared—for Eli, the girl who makes the world glow; for Leopold, the director who wants perfection; and for death in the theater. Zara Evans has come to the Aurelia Theater, home to the visionary director Leopold Henneman, to play her dream role in Echo and Ariston, the Greek tragedy that taught her everything she knows about love. When the director asks Zara to promise that she will have no outside commitments, no distractions, it's easy to say yes. But it's hard not to be distracted when there's a death at the theater—and then another—especially when Zara doesn't know if they're accidents, or murder, or a curse that always comes in threes. It's hard not to be distracted when assistant lighting director Eli Vasquez, a girl made of tattoos and abrupt laughs and every form of light, looks at Zara. It's hard not to fall in love. In heart-achingly beautiful prose, Amy Rose Capetta has spun a mystery and a love story into an impossible, inevitable whole—and cast lantern light on two girls, finding each other on a stage set for tragedy.
The Rules of Mediating Myths and Magic - F.T Lukens
Desperate to pay for college, Bridger Whitt is willing to overlook the peculiarities of his new job—entering via the roof, the weird stacks of old books and even older scrolls, the seemingly incorporeal voices he hears from time to time—but it's pretty hard to ignore being pulled under Lake Michigan by… mermaids? Worse yet, this happens in front of his new crush, Leo, the dreamy football star who just moved to town. Fantastic. When he discovers his eccentric employer Pavel Chudinov is an intermediary between the human world and its myths, Bridger is plunged into a world of pixies, werewolves, and Sasquatch. The realm of myths and magic is growing increasingly unstable, and it is up to Bridger to ascertain the cause of the chaos, eliminate the problem, and help his boss keep the real world from finding the world of myths.
People Like Us - Dana Mele
Kay Donovan may have skeletons in her closet, but the past is past, and she's reinvented herself entirely. Now she's a star soccer player whose group of gorgeous friends run their private school with effortless popularity and acerbic wit. But when a girl's body is found in the lake, Kay's carefully constructed life begins to topple. The dead girl has left Kay a computer-coded scavenger hunt, which, as it unravels, begins to implicate suspect after suspect, until Kay herself is in the crosshairs of a murder investigation. But if Kay's finally backed into a corner, she'll do what it takes to survive. Because at Bates Academy, the truth is something you make...not something that happened.
Let's Talk About Love - Claire Kann
Alice had her whole summer planned. Non-stop all-you-can-eat buffets while marathoning her favorite TV shows (best friends totally included) with the smallest dash of adulting--working at the library to pay her share of the rent. The only thing missing from her perfect plan? Her girlfriend (who ended things when Alice confessed she's asexual). Alice is done with dating--no thank you, do not pass go, stick a fork in her, done. But then Alice meets Takumi and she can't stop thinking about him or the rom com-grade romance feels she did not ask for. When her blissful summer takes an unexpected turn, and Takumi becomes her knight with a shiny library employee badge (close enough), Alice has to decide if she's willing to risk their friendship for a love that might not be reciprocated—or understood.
eloise x